Grinberg Method
We experience life through our bodies. Despite this, our attention is usually focused on our thoughts and our actions. We tend to forget that we have a body unless we notice that it hurts.
In the course of our life we have learned specific ways of dealing with unpleasant sensations. When we feel neck or back pain, for instance, while we're working on something really important... then we often adopt a posture to avoid the pain so we can keep going. Our body has to burn a lot of its energy that way. We are making extra efforts not to feel the strained neck and back. Once we finally take the time to rest or move, we have a stiff neck, an aching back, or a piercing headache.
We could meet the same situation differently: feel the neck pain and relax our head, neck and shoulders. Breathe deeply and notice what it is we need right now - to rest, to change what we are doing, to move.
In order for this step to happen, we need body attention. In the sessions you will learn to focus your awareness on your body. You will learn to change your breathing patterns and to feel your own limitations - and to expand them, according to your symptoms and the aim you wish to achieve.
In a Grinberg Method process
you will learn how you are limiting yourself
and how to stop doing that in order to become more free.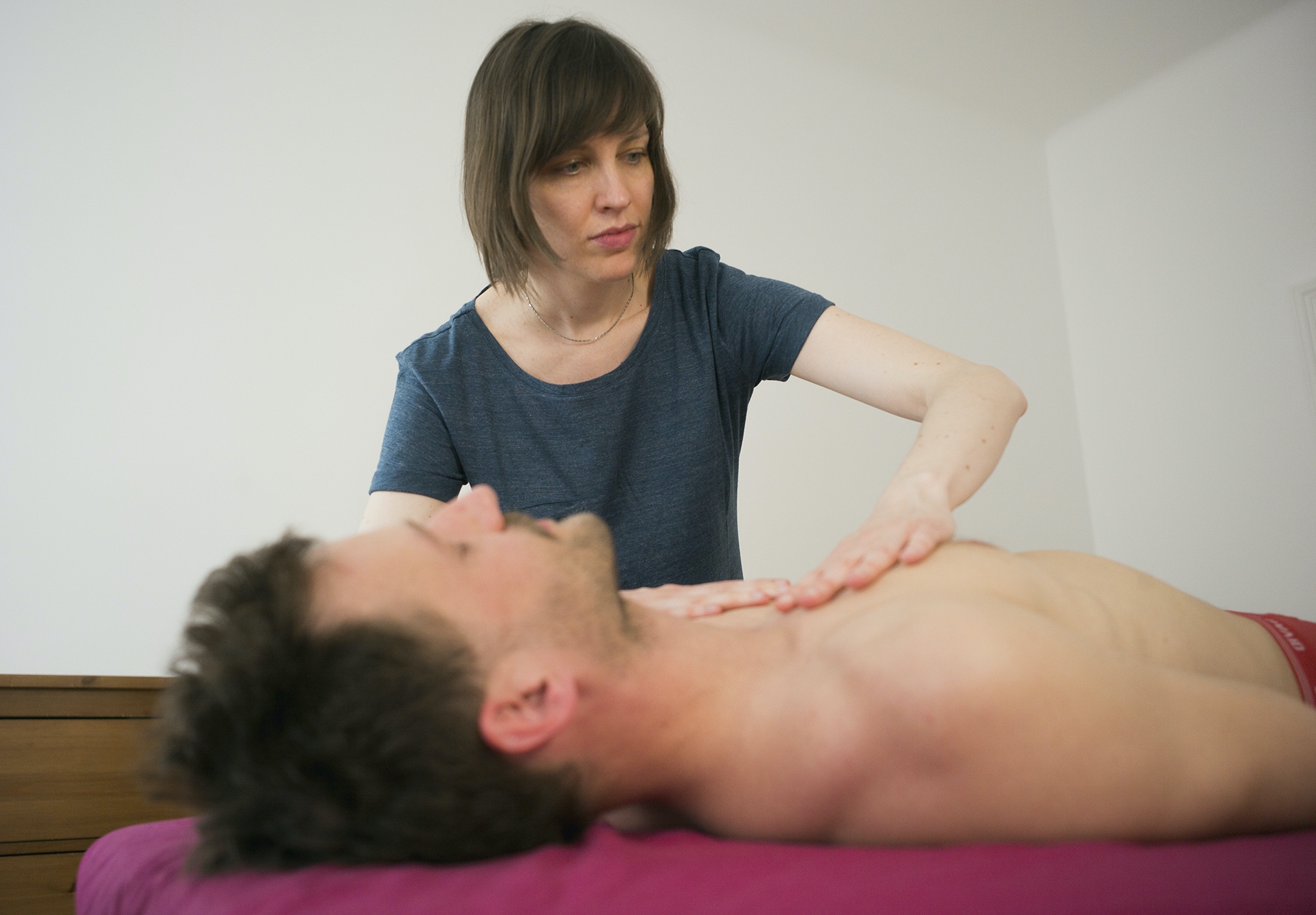 About the method
Avi Grinberg, founder of the Grinberg Method, spent a long time working in Israel with people suffering from chronic pain. He noticed that they tended to do anything they could to avoid pain. This leads to the body being less able to regenerate itself. In order to create lasting results for his clients, Avi started teaching them in a process instead of treating them. By taking active responsibility, clients were able to see much better, lasting results.
There are different ways of reacting to pain and to fear. In a Grinberg process, you will learn step by step which automatic patterns are stored in your body, which hinder you from feeling well. You will learn how to stop those patterns by training your body attention.
Disclaimer:
The Grinberg Method® is a methodology of attention that teaches through expanding and focusing body attention. It does not claim to heal, to be an alternative medicine, a massage therapy, or to be considered among the helping professions. It is not intended for persons suffering from conditions considered life threatening. Nor for those with conditions or serious illnesses that require medical or psychiatric attention. Moreover, it is not intended to be a substitute for any kind of required treatment. The method has no ideological or mystical basis and does not demand any particular lifestyle.
Is this method a good fit for me?
You have recurring physical symptoms or would like to make a change in your life? You are ready to take responsibility for your wellbeing? You are looking for a long-term change instead of a short-term relief of your symptoms? You will get neither a massage nor a treatment here, but rather a training. The more you are willing to invest of yourself (your focus and attention), the better the results you will experience. You are curious, but still on the fence? Feel free to give me a call or make an appointment for a first session below.
Avi Grinberg on chronic pain
Practitioners' experiences during the studies